2010-Oct-25: Ground was recently broken for the new VERITAS control room. See picture of the site here. The control room will be situated to the left of the wall in the center part of the picture, at the location of the pile of earth.
---
2010-Oct-17: VERITAS re-detection of VHE emission from the high-mass X-ray binary system LS I +61 303 is reported in The Astronomers' Telegram #2948, here .
---
July 2010: The VERITAS collaboration is deeply saddened by the recent death of Simon Swordy. Simon was a leading light of VERITAS, a dear friend and an esteemed colleague. We extend our deepest sympathies to his family.
See the University of Chicago press release here.
We invite you to post stories or remembrances of Simon here.
A memorial for Simon will be held at the University of Chicago on November 18/19, see here .

---
2010-Jul-26: A painting of the VERITAS site, presented to Trevor Weekes by the artist Art Dahlstrand (photo credit: Steve Criswell).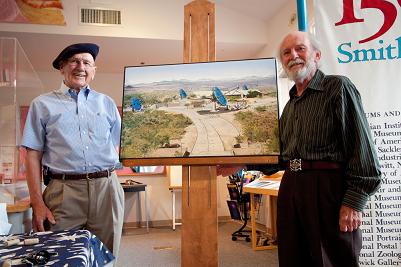 Here's a close-up of the painting (photo credit: Steve Criswell); click on the picture for a larger image.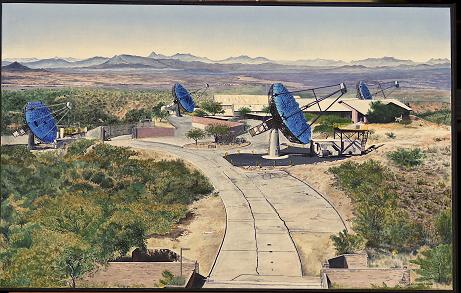 ---