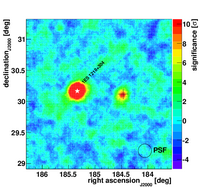 Reference: E. Aliu et al. (The VERITAS Collaboration), Astrophysical Journal 779: 92, 2013
In this paper, we report on VERITAS observations of the active galactic nucleus B2 1215+30 between 2008 and 2012. B2 1215+30 was one of the first BL Lac-type objects to be identified and was used, together with OJ 287, W Comae, AP Librae and BL Lacertae, to define the class [1].
At very high energies, B2 1215+30 was discovered by MAGIC in early 2011 following an optical high state [2]. As the source is in the same field of view as the well-known TeV-emitting blazar 1ES 1218+304, it has been regulary monitored by VERITAS since 2009. Up to 2012, VERITAS collected nearly 100 hours of observations on B2 1215+30. The analysis of this data set yielded a clear detection of 8.9 sigma significance and revealed long-term variability at energies above 200 GeV.
In 2011, the source entered a prolonged high state, during which no significant variability was detected in the VHE regime. The integral flux above 200 GeV corresponds to 3.4% of the Crab Nebula flux and the energy spectrum can be well described by a power law.
Multiwavelength (MWL) observations were obtained quasi-simultaneously with the VERITAS observations in 2011, covering optical (Super-LOTIS, MDM, Swift-UVOT), X-ray (Swift-XRT) and gamma-ray (Fermi-LAT) frequencies. These observations were used to construct the spectral energy distribution of B2 1215+30 which can be successfully modeled with a one-zone synchrotron self-Compton model. Through a comparative study with other blazars detected by VERITAS, we could show that most of the parameter values used to model the broadband emission of B2 1215+30 are in the range of other VERITAS-detected blazars, making this blazar a typical very-high-energy gamma-ray emitter.
[1] P.A. Strittmatter, K. Serkowski, R. Carswell et al., ApJL 175, L7 (1972).
[2] J. Aleksic, E.A. Alvarez, L.A. Antonelli et al., A&A, 544, A142 (2012).
Figures from paper (click to get full size image):
---