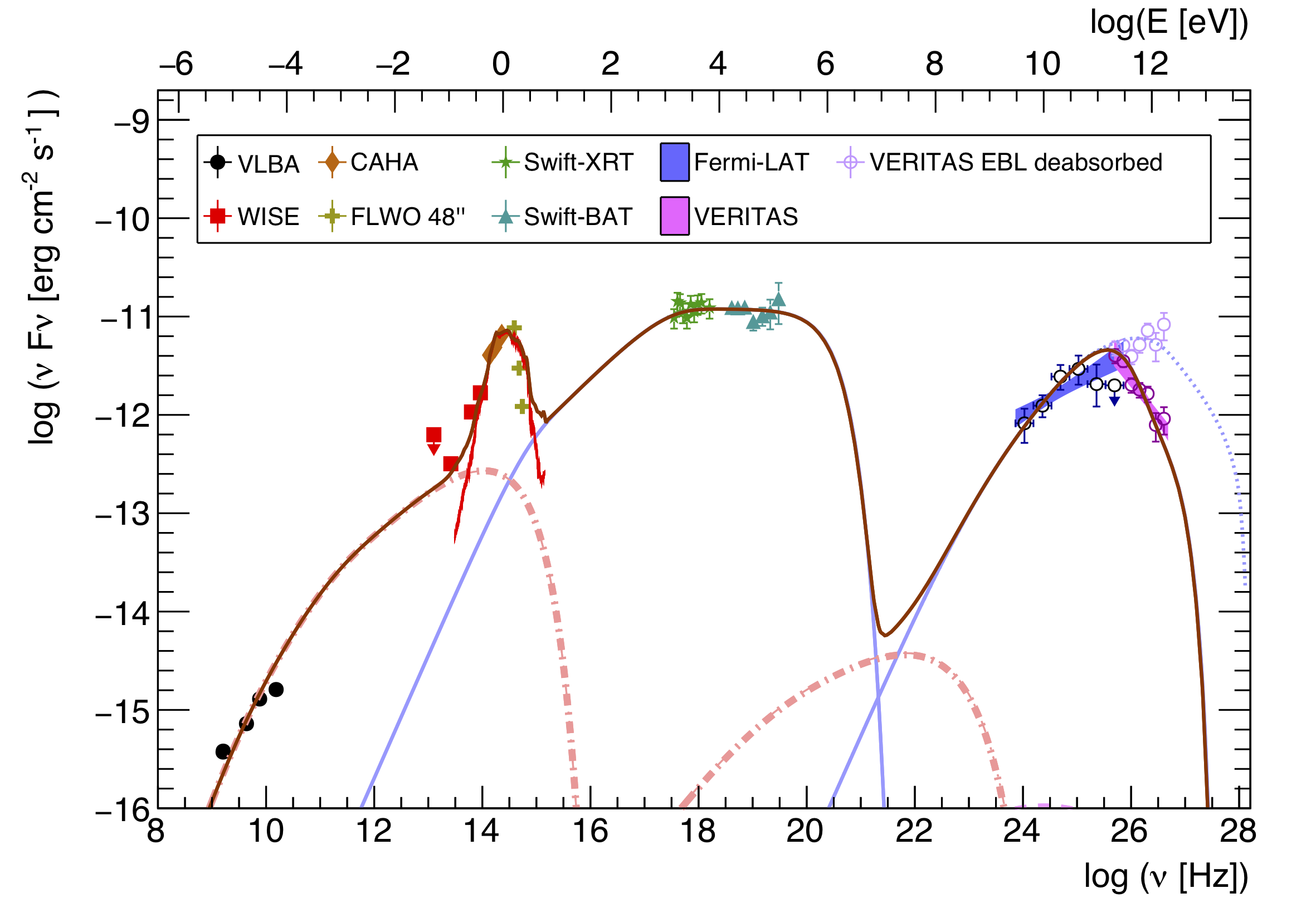 Reference: A. Archer et al. (The VERITAS Collaboration), Astrophysical Journal 862: 41, 2018
HESS J1943+213 is an enigmatic Υ-ray point source in the direction of the Galactic Plane. We use the strong detection of the source with VERITAS observations in conjunction with multi-wavelength observations from VLBA, Fermi-LAT, Swift-XRT, and FLWO 48" optical telescope to solidify the classification of the source as an extreme HBL (a fairly rare type of blazar) and explore its properties across the electromagnetic spectrum. We find an extended, jet-like structure in multi-frequency VLBA observations of the HESS J1943+213 radio counterpart. We do not detect proper motion above 0.1 milliarcsec over a course of a year, supporting an extragalactic origin for the source. In addition, the radio spectral indices of the core and the jet and the level of polarization are in a range typical for blazars.
We perform flux and spectral variability searches and find no significant variability in any of the investigated bands. HESS J1943+213 appears to be one of the most stable blazars.
Data from VERITAS, Fermi-LAT, Swift-XRT, and the FLWO 48" telescope, and archival infrared and hard X-ray observations are used to construct the spectral energy distribution (SED) of the source. The well-measured Υ-ray peak of the SED with VERITAS and Fermi-LAT provides constraining upper limits on the source redshift, z < 0.23.
We model the HESS J1943+213 SED with a two-zone SSC model described by a homogenous, compact blob within a conical wider jet. The model is a two-flow representation in which there is a highly Doppler boosted inner jet region (blob) embedded in a wider, conical structure with a lower Lorentz factor (jet). The VLBA images are used to constrain the jet half-opening angle and jet basis length parameters.
The lack of rapid flux variability and the hard VHE spectra make extreme HBLs attractive candidates for hadronic emission models. We test for possible contribution of secondary ?-rays from ultra-high-energy cosmic ray-initiated electromagnetic cascades to the ?-ray emission of HESS J1943+213, and find that only a segment of the VHE spectrum can be accommodated with this process.


FITS files: N/A
Figures from paper (click to get full size image):
---