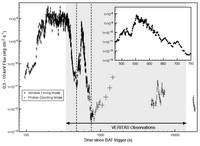 Reference: V. Acciari et al. (The VERITAS Collaboration), Astrophysical Journal 743: 62, 2011
Gamma-ray bursts (GRBs) have been an active area of research since their serendipitous discovery by NASA's Vela satellites in the late 1960s. The most luminous events since the Big Bang, GRBs are theorized to occur during the deaths of massive stars (core-collapse supernovae) or through the merging of compact objects (neutron stars, block holes). The physics taking place in these extreme environments remains a subject of debate but improved observations of these objects, particularly at high energies, can help us understand the details of these events. In addition to better to a better understanding of GRBs, observations of GRBs at high energies can lead to improved constraints on Lorentz invariance violation and the extragalactic background light.

VERITAS has maintained an active program of GRB follow-up observations since 2006. During that time, VERITAS has taken observations of ~50 satellite-detected GRBs. Presented here are the results from VERITAS follow-up observations of 16 quality-selected GRBs detected by the Swift satellite. No significant flux of >100 GeV photons from any of these bursts is found and the upper limits on gamma-ray emission obtained with VERITAS are interpreted in the context of recent GRB observations by both the Fermi and Swift satellites.
Figures from paper (click to get full size image):
---