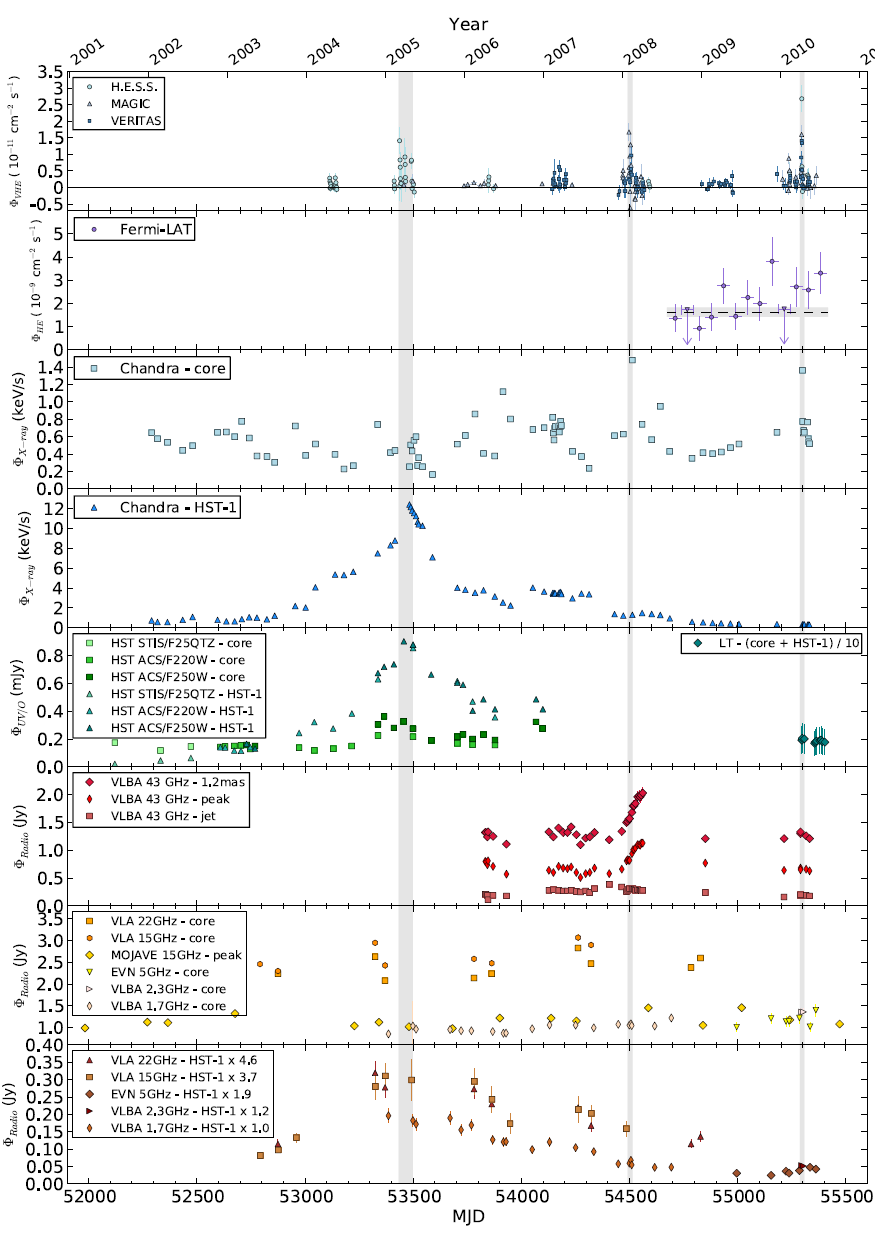 Reference: A. Abramowski et al. (The VERITAS Collaboration, with HESS, MAGIC, Fermi, Chandra, HST and others), Astrophysical Journal 746: 151, 2011
The giant radio galaxy M87 with its proximity (16 Mpc), famous jet, and very massive black hole provides a unique opportunity to investigate the origin of very high energy (VHE; E>100 GeV) gamma-ray emission generated in relativistic outflows and the surroundings of super-massive black holes. During a joint 2010 VHE monitoring campaign by VERITAS, MAGIC and H.E.S.S. a strong VHE flare was detected from M87 triggering further observations at VHE, X-rays (Chandra), and radio (43 GHz VLBA). The excellent sampling of the VHE gamma-ray light curve enables one to derive a precise temporal characterization of the flare.

43 GHz VLBA radio observations of the inner jet regions indicate no enhanced flux in 2010 in contrast to observations made following a VHE flare in 2008, where an increase of the radio flux of the innermost core regions coincided with a VHE flare. On the other hand, Chandra X-ray observations taken 3 days after the peak of the 2010 VHE gamma-ray emission reveal an enhanced flux from the core (flux increased by factor 2; variability timescale < 2 days). The long-term (2001-2010) multi-wavelength (MWL) light curve of M87, spanning from radio to VHE and including data from HST, LT, VLA and EVN, is used to further investigate the origin of the VHE gamma-ray emission.
Figures from paper (click to get full size image):
---
Figure 5: VHE light curve (top), reduced chi-square 2=d.o.f. (degree of freedom) (middle), and probability (bottom) vs the position of the peak t0 of the best fit function to the 2010 VHE data for the 2005 (left), 2008 (middle), and 2010 VHE data (right). Values are calculated for data points inside a time-span of t0-7 < tdata < t0+2. The gray bands mark the same time period as in Fig. 1 and 2, denoting periods of increased VHE activity. Dashed vertical lines mark the positions of VHE flares. The horizontal line in the bottom panels marks a probability of 5%.