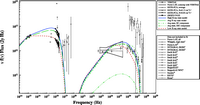 Reference: E. Aliu et al. (The VERITAS Collaboration), Astrophysical Journal 775: 3, 2013
1ES 1959+650 is a high-frequency peaked BL Lac (HBL) object with redshift z=0.047. It has previously exhibited dramatic very high energy (VHE; E > 100 GeV) flaring episodes, most notably on 2002 June 4, when a gamma-ray flare without an increase in X-ray emission was detected from the source, providing the first unambiguous example of an "orphan" gamma-ray flare.
VERITAS observed 1ES 1959+650 as part of a routine blazar program monitoring for enhanced emission in the period 2007 - 2011. During this time, the source never met the threshold criteria to be deemed to be in a flaring state. VERITAS observed 1ES 1959+650 for a total of 7.6 hours in this period, and detected the source at 16.4 standard deviation (σ) significance.  Due to a mean recorded VHE gamma-ray flux of 23% of the Crab Nebula flux, the source is considered to be in a low flux state throughout these observations.
A multiwavelength spectral energy distribution (SED) is constructed from contemporaneous data from VERITAS, Fermi-LAT, RXTE PCA, and Swift UVOT. Swift XRT data is not included in the SED due to a lack of simultaneous observations with VERITAS. In contrast to the orphan gamma-ray flare exhibited by this source in 2002, the X-ray flux is found to vary by an order of magnitude, while other energy regimes exhibit less variable emission. A quasi-equilibrium synchrotron self-Compton model with an additional external radiation field is used to describe three SEDs corresponding to the lowest, highest, and average X-ray states.
FITS files: N/A
Figures from paper (click to get full size image):
---