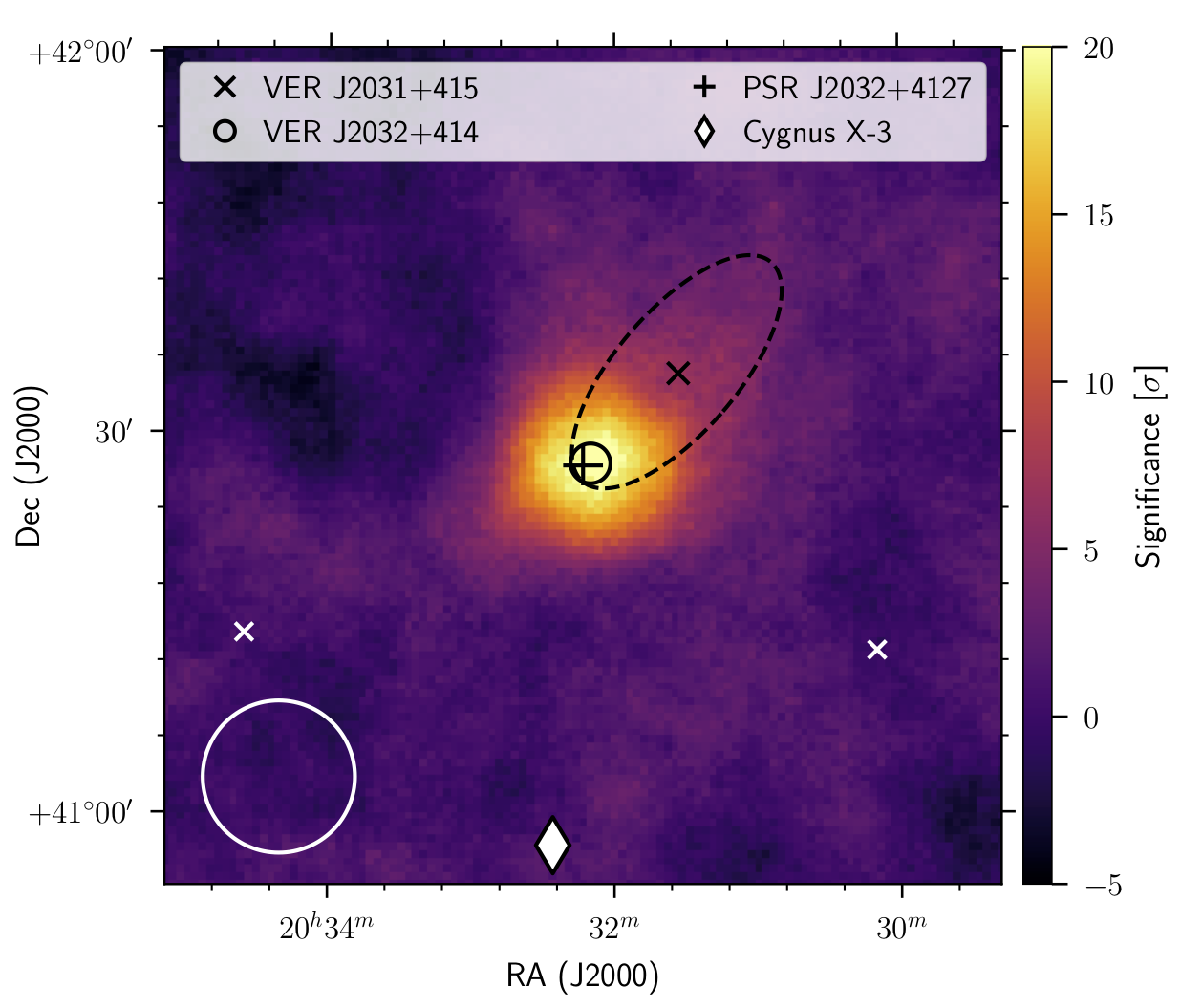 Reference: A.U. Abeysekara et al. (The VERITAS and MAGIC Collaborations), ApJ Letters 867: L19, 2018
PSR J2032+4127 / MT91 213 is a 50 year period pulsar / Be star binary system that reached periastron in November 13, 2017.  It presented a unique opportunity to study what was potentially only the second gamma-ray binary where the type of the compact object is known.  In this paper we present the results of VERITAS and MAGIC observations of the system between 100 GeV and 20 TeV with observations spanning from 18 months prior to periastron to one month after periastron. A new, point-like, gamma-ray source was detected, coincident with the location of PSR J2032+4127 / MT91 213.  We present the gamma-ray light curve and spectrum which are well-characterized over the periastron passage. The flux was variable over at least an order of magnitude, peaking at periastron, thus providing a firm association of the TeV source with the pulsar / Be star system. Observations prior to periastron show a cutoff in the spectrum at an energy around 0.5 TeV. This result adds a new member to the small population of known TeV binaries, and it identifies only the second source of this class in which the nature and properties of the compact object are firmly established.  This system lies at the edge of the extended TeV source TeV J2032+4130, likely the pulsar wind nebula (PWN) associated with PSR J2032+4127; this makes this the first binary system where an associated PWN has been detected.

We compared the gamma-ray results with the light curve measured with the X-ray Telescope (XRT) on board the Neil Gehrels Swift Observatory and with the predictions of recent theoretical models of the system. We conclude that significant revision of the models is required to explain the details of the emission we have observed, and we discuss the relationship between the binary system and the overlapping steady extended source, TeV J2032+4130.
FITS files: Significance map (VERITAS); Significance map (MAGIC); VERITAS spectral points; MAGIC spectral points

Figures from paper (click to get full size image):
---