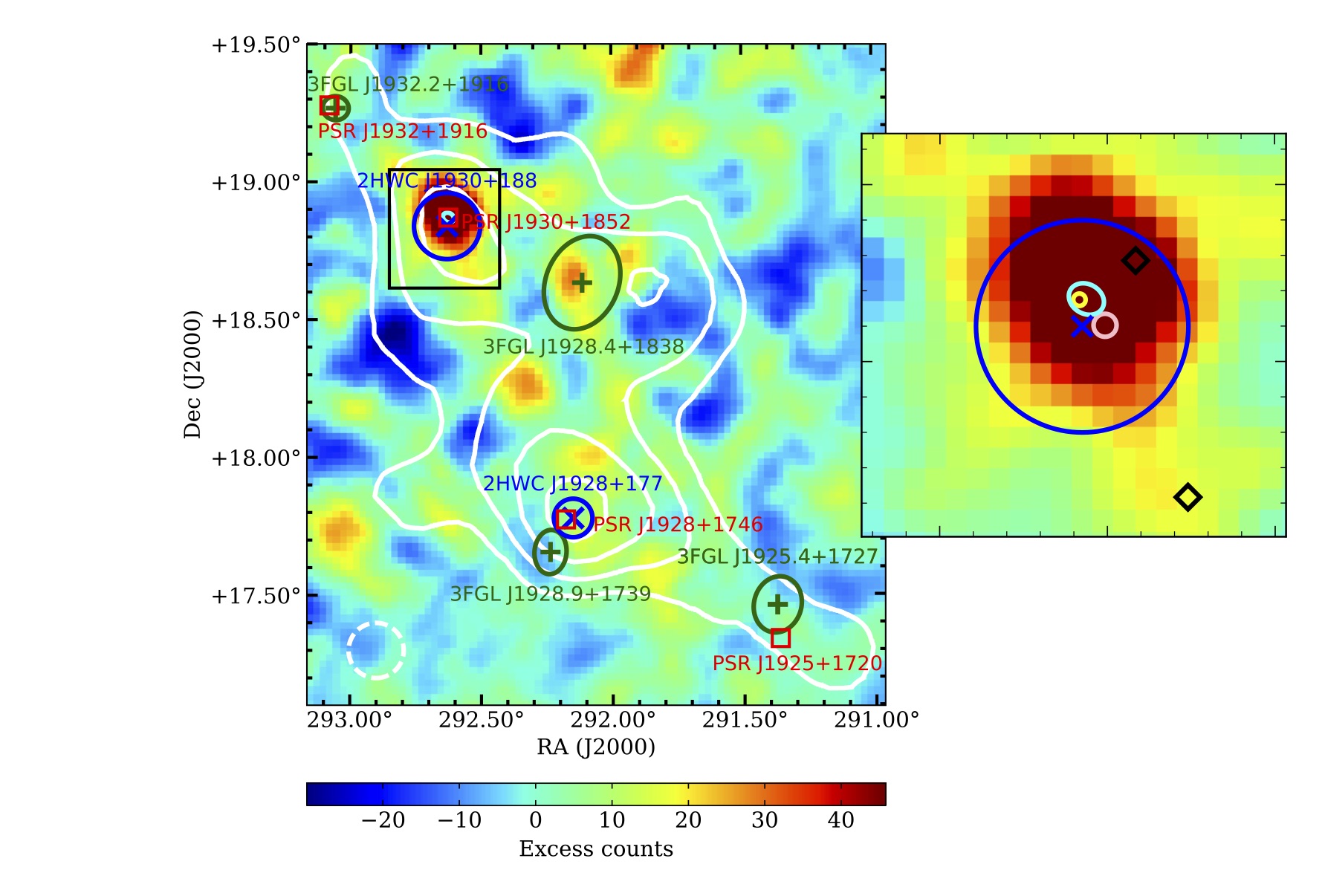 Reference: A.U. Abeysekara et al. (The VERITAS Collaboration and others), ApJ 866, 24 (2018)
Direct detection of gamma-rays carried out by satellite-based instrumentation, such as the Large Area Telescope (LAT) on board the Fermi Gamma-ray Space Telescope, can detect gamma-rays with low background, and survey the whole sky every three hours. However, due to the small effective area (2), the sensitivity peaks at a few GeV. Meanwhile the ground-based observatories are best suited to study gamma-ray emission at energies higher than 100 GeV. Ground-based imaging atmospheric Cherenkov telescope arrays, such as VERITAS, provide the best instantaneous sensitivity with good energy resolution (~20%) and angular resolution (30 TeV. However, the duty cycle is <20% because the observation requires clear, dark skies, and the technique has a small field of view (currently Air shower arrays, such as HAWC, have a lower instantaneous sensitivity and worse energy and angular resolution compared to imaging atmospheric Cherenkov telescope arrays. But, the field of view covers ~15% of the sky, and the duty cycle is larger than 90%. The most powerful approach, therefore, is to combine observations from all three methods. Only a few examples of this exist due to limited overlapping source catalogs.
The HAWC collaboration recently published their 2HWC catalog, listing 39 very high energy (VHE; >100 GeV) gamma-ray sources based on 507 days of observation. Among these, there are nineteen sources that are not associated with previously known TeV sources. We have studied fourteen of these sources without known counterparts with VERITAS and Fermi-LAT.

VERITAS detected weak gamma-ray emission in the 1 TeV-30 TeV band in the region of DA495, a pulsar wind nebula coinciding with 2HWC J1953+294, confirming the discovery of the source by HAWC. The flux measured by VERITAS is about seven times lower than the flux reported by HAWC. This may be due to the overestimation of HAWC's flux caused by unaccounted diffuse emission in the region. We did not find any counterpart for the selected fourteen new HAWC sources from our analysis of Fermi-LAT data for energies higher than 10 GeV. During the search, we detected GeV gamma-ray emission coincident with a known TeV pulsar wind nebula, SNR G54.1+0.3 (VER J1930+188), and a 2HWC source, 2HWC J1930+188.

The fluxes for isolated, steady sources in the 2HWC catalog are generally in good agreement with those measured by imaging atmospheric Cherenkov telescopes. However, the VERITAS fluxes for SNRG54.1+0.3, DA495, and TeV J2032+4130 are lower than those measured by HAWC and several new HAWC sources are not detected by VERITAS. This is likely due to a change in spectral shape, source extension, or the influence of diffuse emission in the source region.
FITS files: N/A
Figures from paper (click to get full size image):
---