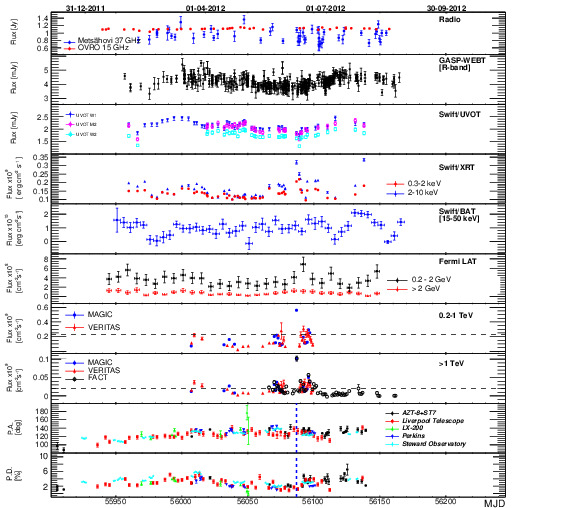 Reference: M.L. Ahnen et al. (The MAGIC, FACT, and VERITAS Collaborations and others), Astronomy & Astrophysics 620: A181 , 2018
Markarian 501 is a BL Lacertae (BL Lac) object, a member of the blazar subclass of active galactic nuclei (AGN). At very high energies (VHE; E > 100 GeV) it was first detected by the pioneering Whipple imaging atmospheric-Cherenkov telescope. In 2012, 25 instruments took part in a three month multiwavelength campaign to observe Mrk 501. This included the MAGIC, FACT and VERITAS Cherenkov telescopes, the instruments on board the Swift and Fermi spacecraft, and the telescopes operated by the GASP-WEBT
collaboration.

During this time it was seen to exhibit an unusually hard spectral index which was found to be independent of the flux. This study reports the hardest Mrk 501 VHE spectra measured to date. The VHE gamma-ray flux above 0.2 TeV was found to be ~0.5 times the Crab Nebula flux (CU) for most of the campaign. On June 9th a flare (~3 CU) was observed.

The unprecedentedly hard X-ray and VHE spectra measured imply that their low- and high-energy components peaked above 5 keV and 0.5 TeV, respectively, during a large fraction of the observing campaign, and hence that Mrk 501 behaved like an extreme high-frequency- peaked blazar (EHBL) throughout the 2012 observing season. This suggests that being an EHBL may not be a permanent characteristic of a blazar, but rather a state which may change over time.

Thanks to the excellent coverage from all instruments it was possible to form 17 broad band spectral energy distributions. These were then modelled using a one-zone synchrotron self-Compton model. In an attempt to improve the fit of the flare of June 9th, a two-zone model was also used. The one-zone SSC scenario used can successfully describe the segments of the SED where most energy is emitted, with a significant correlation between the electron energy density and the VHE gamma-ray activity, suggesting that most of the variability may be explained by the injection of high-energy electrons..
FITS files: N/A
Figures from paper (click to get full size image):
---