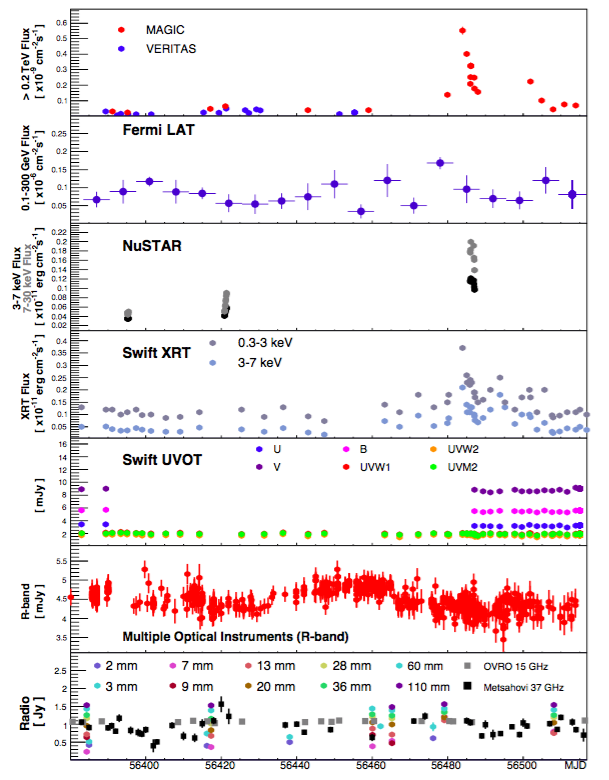 Reference: A. Furniss et al. (The VERITAS Collaboration), Astrophysical Journal 812: 65, 2015
VERITAS joined the largest multi-wavelength campaign to observe one of the historic TeV galaxies known as Mrk 501. This source, known to be a gamma-ray emitting galaxy for more than 20 years, still remains to be understood.  The observations occurred in 2013, and included observations at very low energies (radio) all the way to the highest energies (gamma ray observations with VERITAS).  Notably, the efforts were matched by the relatively new space based X-ray instrument NuSTAR, which is the most sensitive hard X-ray instrument in orbit around Earth.

With the observations from the more than 10 instruments involved in the campaign, the physical mechanism responsible for the observed photons from the source was explored.  The emission was observed to vary during the observations, being consistent with a possible episode of magnetic reconnection where relativistic charged particles were accelerated up to even higher energies for approximately 24 hours.

During the observation period in 2013 the galaxy showed characteristics which are different than the previous observations which have occurred over the years, making it clear that gamma-ray galaxies, and more specifically gamma-ray galaxies like Mrk 501 (with relativistic jets beamed directly at us) undergo chaotic episodes that seem to be independent events.  In order to get a solid understanding of the physical characteristics and how the gamma-ray photons are produced within Mrk 501, additional observation campaigns such as this one are necessary, but will likely show new, never-before observed periods of activity.
FITS files:
Figures from paper (click to get full size image):
---