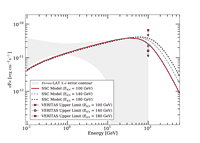 Reference: E. Aliu et al. (The VERITAS Collaboration), Astrophysical Journal 795: L3, 2014
Gamma-ray bursts (GRBs) are the most luminous events in the Universe. Thought to be the product of massive stellar collapse or of mergers of compact objects (black holes, neutron stars), GRBs are relatively short-lived phenomena that produce radiation across the electromagnetic spectrum including high-energy gamma radiation above 100 GeV. Under favorable observing circumstances, VERITAS is expected to be sensitive enough to detect some GRBs.

GRB 130427A was a very fluent and nearby (z=0.34) burst that was detected by several orbiting telescopes and by ground-based, wide-field-of-view optical transient monitors. Apart from the intensity and proximity of this GRB, it is exceptional due to the extremely long-lived high-energy (100 MeV to 100 GeV) gamma-ray emission, which was detected by the Large Area Telescope on the Fermi Gamma-ray Space Telescope for ~70 ks after the initial burst.

VERITAS began follow-up observations of GRB 130427A ~71 ks (~20 hr) after the onset of the burst. The GRB was not detected with VERITAS; however, the high elevation of the observations, coupled with the low redshift of the GRB, make VERITAS a very sensitive probe of the emission from GRB 130427A for E > 100 GeV. The non-detection and consequent upper limit derived place
constraints on the synchrotron self-Compton model of high-energy gamma-ray emission from this burst.
Figures from paper (click to get full size image):
---