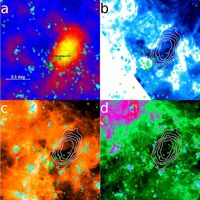 Reference: E. Aliu et al. (The VERITAS Collaboration), Astrophysical Journal 783: 16, 2014
In this paper VERITAS reports on a deep observation of TeV J2032+4130. This source, originally detected in 2002, was the first to have no counter part at any other wavelength. Using almost 50 hours of data the source was detected at 8.7 standard deviations and is found to be extended and asymmetric, with a width of 9.5'±1.2' along the major axis and 4.0'±0.5' along the minor axis. The spectrum is well described by a power-law dN/dE = N0(E/1 TeV)-Γ , with a differential spectral index of Γ = 2.10 ± 0.14stat ± 0.21sys, and normalization N0= (9.5 ± 1.6stat ±2.2sys ) 10-13cm-2s-1TeV-1.

Here we argue that the TeV  emission is the result of a pulsar wind associated with the recently discovered Fermi-LAT pulsar PSR J2032+4127, which lies along the major axis of the asymmetry. The integral TeV flux above 1 TeV corresponds to 0.3% of the pulsar's
spin-down power, assuming a distance of 1.7 kpc.

We show that the TeV, X-ray and pulsar properties are similar to those of other detected TeV pulsar wind nebula. Interestingly it is also shown that the morphology of the emission matches void a seen at other wavelengths and no energy dependence to the morphology can be observed.
FITS files: Significance map (Figure 1); excess events .
Figures from paper (click to get full size image):
---