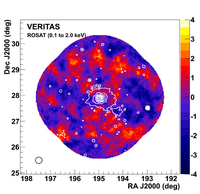 Reference: T. Arlen et al. (The VERITAS Collaboration with C. Pfrommer and A. Pinzke), Astrophysical Journal 757: 123, 2012
Clusters of galaxies are among the largest structures in the universe. They have a typical size of a few million light-years and contain a mass equivalent to a few hundred trillion stars similar to the sun. Most of that mass is carried by dark matter whose nature is one of the most important questions in modern astrophysics. The Coma cluster of galaxies is relatively close to us, only 300 million light-years away, and it does not contain an individual source of high-energy gamma rays such as an active galactic nucleus. It is an interesting target for VERITAS: not only can we search for signatures of dark-matter interactions, we can also investigate the abundance of cosmic rays, an energetic particle radiation, whose presence is in dicated by a diffuse glow in the radio band produced by very energetic electrons.

VERITAS observed the Coma cluster of galaxies for a total time period of 18.6 hours under good operating conditions. No signal was detected, which, together with data obtained with NASA's Fermi satellite, permits placing an upper limit to the pressure provided by cosmic rays. Their contribution to the stability of the cluster against gravitation collapse may not exceed a few per cent. We also derive limits on dark-matter self annihilation that are most constraining if the dark-matter particles have a mass more than a thousand times higher than that of a hydrogen atom.
Figures from paper (click to get full size image):
---