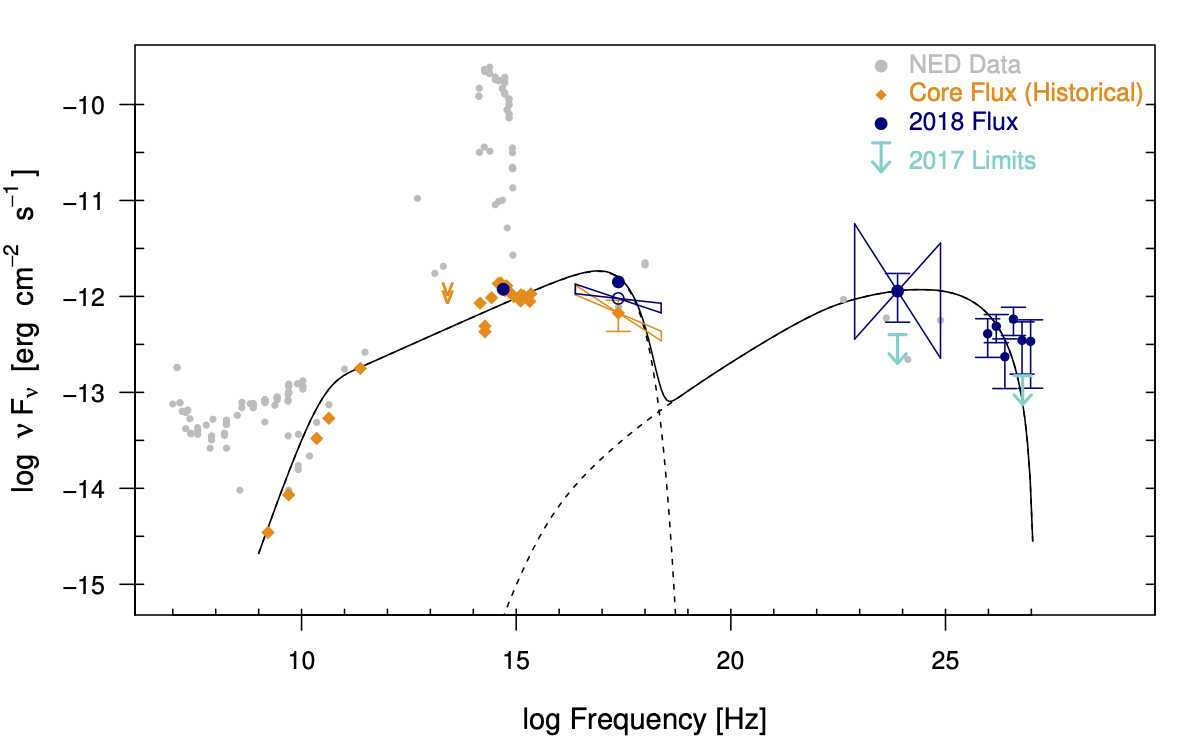 Reference: A. Archer et al. (The VERITAS Collaboration), Astrophysical Journal 896: 41, 2020
Radio galaxies comprise the ~10% of active galactic nuclei (AGN) possessing strong collimated outflows (jets). These AGN differ from blazars, the most commonly detected VHE source, in that their jets are not aligned towards the
observer. Because of this they are rarely detected in the gamma-ray band. However, they also present opportunities for studies of the physics within jets. 3C 264 was observed by VERITAS from 2017-2019, and was discovered as a VHE emitter during an elevated flux state in 2018. It is now the fourth VHE radio galaxy known and the most distant.
The identification of an elevated flux state triggered a deep VERITAS campaign, along with a intensive multi-wavelength (MWL) follow-up effort including some of the world?s most powerful observatories (Chandra, Swift, HST, VLBA).  The goal of the campaign was to identify the source of the VHE emission and/or flux enhancement within the jet. While a modestly elevated VHE and X-ray state is seen in 2018, there was no clear change in the high-resolution radio, optical or X-ray morphology. The SED for 3C 264 can be reasonably described by a synchrotron self-Compton (SSC) model typical of blazars, although it is likely a more complex model is needed to fully characterize the data. Although 3C 264 and M87 show many morphological similarities, and both are VHE detected, their SEDs aredramatically different. Qualitatively, this could be due to jet alignment where 3C 264 is more aligned.
FITS files: N/A
Figures from paper (click to get full size image):
---