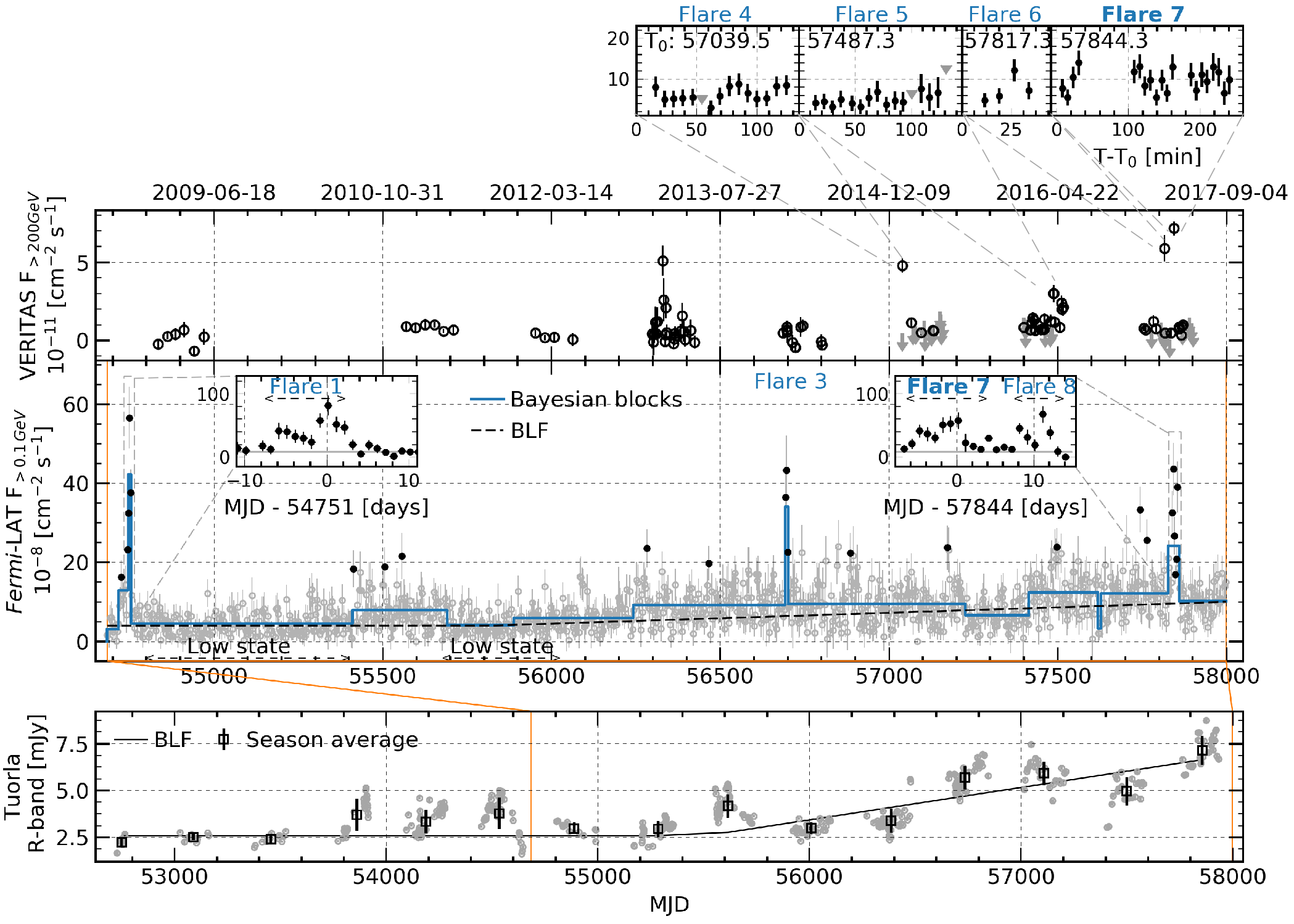 Reference: J. Valverde et al. (The VERITAS Collaboration and MWL partners), Astrophysical Journal 891: 170, 2020
Blazars are known to show complex multiwavelength variability which is specifically difficult to decipher when focusing on a single event without good broadband coverage. In order to have a broader view on a specific blazar's behavior, we performed the most extended multiwavelength study ever done on the bright source 1ES 1215+303 (B2 1215+30), from radio to TeV energies, over a decade of observations in gamma-ray energies and extended to 15 years for optical and radio data. After a detailed analysis of the lightcurve and spectra in multiple bands, two big surprises awaited us.

The first one is the discovery of a steady flux increase significantly observed in the gamma-ray (Fermi-LAT) and optical lightcurves, which started around August 2011 and continued at least up to 2017. This timescale of variability is not well understood. It is too long for a phenomenon intrinsic to the relativistic blazar jet which can span from several minutes (for a small population of ultra-energetic particles) to months (when considering large scale perturbations or large plasma bulk motion), and is typically >>100 years when considering the natural evolution of a supermassive black hole's general accretion disk regime. If other scenarios are considered, this flux increase seems consistent with a perturbation (a clump of matter) within the accretion disk falling into the black hole while driving more power to the jet.

The second surprise is an extreme shift of the synchrotron luminosity peak frequency from the optical in quiet state to the X-ray in flaring state. It means that the source can actually "jump" from one category of blazar (intermediate frequency peaked BL Lac, IBL) to another (high frequency peaked BL Lac, HBL). This exceptional behaviour was already suspected in a few sources, but this is the first time that we see it this clearly and at this amplitude. The multiwavelength modelling of this phenomenon suggests a deep change of high energy particle injection and adiabatic/advective cooling between the two states. It brings however more questions than answers about the origin of the mechanism, while also challenging our current understanding of the blazar classification scheme.
Figures from paper (click to get full size image):
---