| | | |
| --- | --- | --- |
| Outreach & Education | | |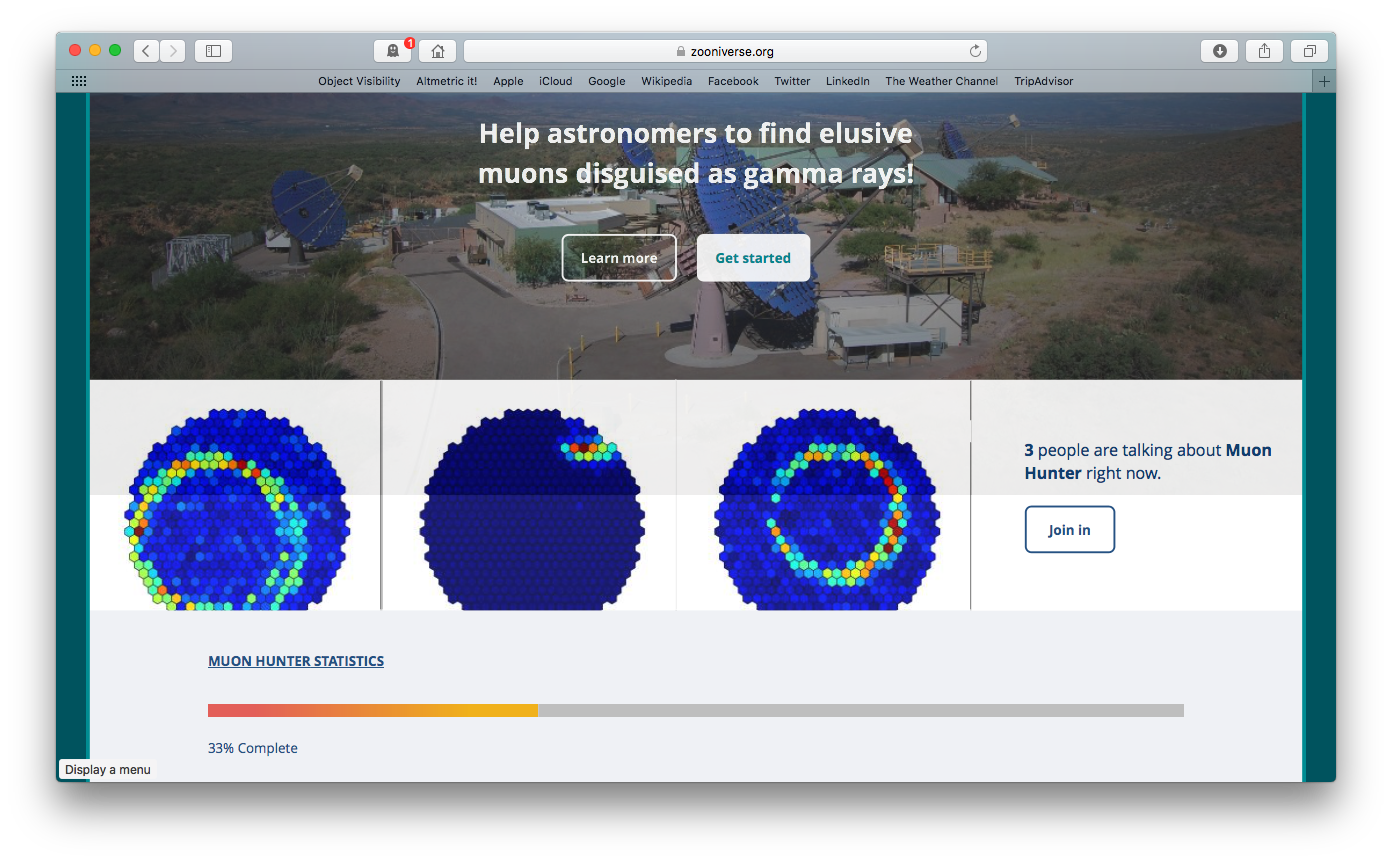 Astronomers using the VERITAS telescopes to detect some of the highest-energy photons in the Universe need your help! These photons are gamma-rays that originate in astrophysical environments like the expanding blast waves thrown out by supernova explosions, or from powerful streams of material that flow from the cores of active galaxies at speeds close to that of light. Muons (a particle like an electron, only heavier) are a prominent background contaminant when observing very-high-energy gamma rays on earth. They leave a distinctive ring-like shape making them obvious to the human eye, but incomplete or truncated rings can appear very gamma-ray-like to automatic analysis algorithms. We need your help to identify camera images that contain muon rings so we can teach computers to better identify such images and efficiently filter out those pesky muons that are masquerading as gamma rays.
Find out more at Muon Hunters
VERITAS videos
Veritas videos Can't get data from youtube.
Probable causes listed below:
1. Youtube username or Playlist is not valid with your selection. Please set the parameters correctly from module manager
2. It might also be a problem with CURL library or your server config
Reply from youtube:
No longer available
Gamma Ray Producing Cherenkov Radiation in Earth's Atmosphere

Computer simulation of a very-high-energy gamma ray interacting in the atmosphere. Gamma rays above 100 GeV, giga electron volts, are produced near pulsars, neutron stars and super-massive black holes, and bombard Earth at a rate of about 100 million per second. The animation shows that a shower of high-energy particles (mostly electrons and positrons) is produced by the initial interaction of the gamma ray with a molecule in the atmosphere. Those particles that travel faster than the speed of light in air, emit a bluish light called Cherenkov light. Cherenkov light from gamma rays and other high-energy particles is detected by specialized ground-based telescopes, such as VERITAS, HESS, MAGIC, and CANGAROO in search of the origin of extreme cosmic particle accelerators.
VERITAS Time Lapse movie

A time lapse movie of the VERITAS telescopes operating near Tucson, Arizona. Created by Daniel Gall with 30 second exposures spaced 30 seconds apart with a Nikon D5100 over the course of several nights during spring 2012. For more information about VERITAS and gamma-ray astronomy, visit: veritas.sao.arizona.edu The music is Night Owl (Broke For Free) / CC BY 3.0, licensed through Creative Commons. freemusicarchive.org/music/Broke_For_Free/
pixel ninjas

VERITAS is an array of four, 12-meter diameter telescopes used for gamma-ray astronomy at the Fred Lawrence Whipple Observatory near Tucson, Arizona. Each of the telescope's cameras are being upgraded this summer to increase their sensitivity. The upgraded telescopes will see first light in fall 2012 Visit http://veritas.sao.arizona.edu/ for more information
VERITAS Cherenkov Telescope Time Lapse Video

The Very Energetic Radiation Imaging Telescope Array, VERITAS, is located in southern Arizona near Amado at the Whipple observatory. 999 thirty-second exposures show the nightly dance that one of the 4 telescopes performs as various astrophysical objects are tracked during the night. The telescopes themselves capture the faint glow of Cherenkov light that is produced as gamma rays interact in the Earth's atmosphere. The video was created by Adler astronomers Jose Francisco Salgado, Mark SubbaRao, and Paul Knappenberger on 19 Feb. 2010.
Atmospheric Particle Showers and Cherenkov Radiation from Gamma Ray, Proton and Carbon-13

The interactions of 3 types of very-high-energy particles (gamma-ray, proton and Carbon-13 nucleus) were simulated. The fully developed atmospheric particle showers (red) are shown including the Cherenkov light (blue) just before impact on the ground. Even though the 3 particle had the same initial energy, the most intense Cherenkov light is produced by the gamma ray, less by the proton, and the least by the Carbon nucleus. Each time a very-high-energy particle interacts in the atmosphere, fluctuations cause the shower to develop differently. Shown here are pretty 'average' looking showers.
GR Sky

Trevor Weekes is a leader of the branch of astrophysics devoted to the study of very high-energy gamma rays, or TeV gamma rays. A senior researcher at the Harvard-Smithsonian Center for Astrophysics, Dr. Weekes pioneered the techniques that the VERITAS telescope uses to detect TeV gamma rays.
Media
Here are copies of the new (2011) signs posted outside the FLWO Visitors Center close to the T1 telescope (click on the figures for full-size versions):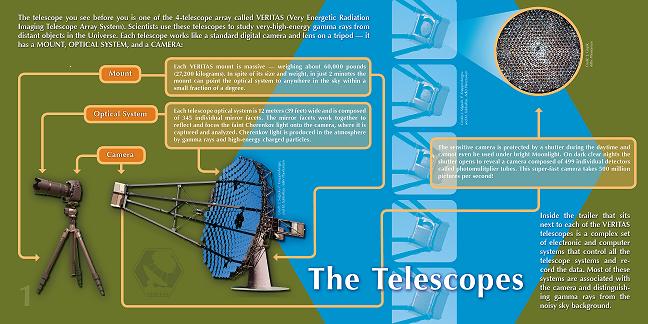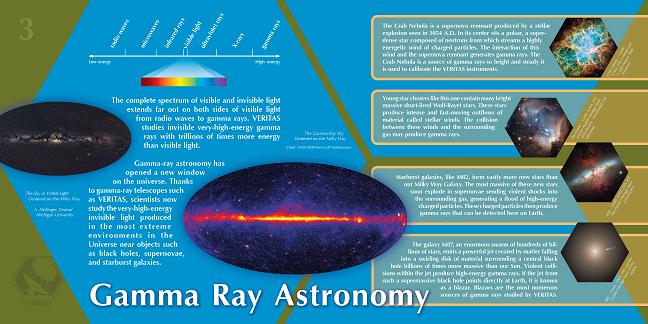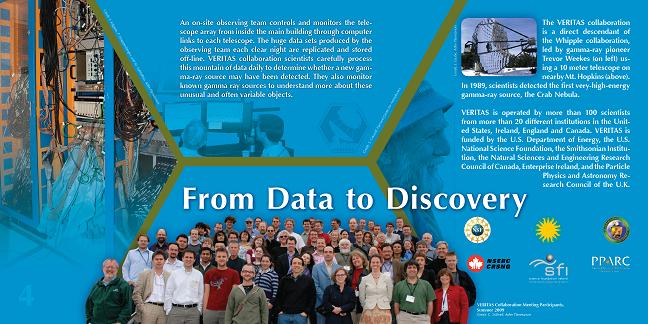 Links
If you have any questions on astronomy or astrophysics in general please follow one of these links
Last Updated on Tuesday, 28 February 2017 06:50