| | |
| --- | --- |
| VERITAS upgrades its focal-plane instrumentation | |
2012-July: VERITAS is currently upgrading its focal plan instrumentation to high-quantum-efficiency Hamamatsu phototubes that will provide approximately a 30% gain in sensitivity. Here's a picture of the last old phototube coming out of one of the cameras: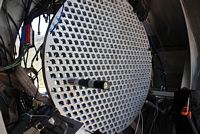 ... and here's a YouTube clip of the 'Pixel Ninjas' doing their thing (make sure to play it with the sound turned on, for the full multi-media experience!). The head ninja is Prof. John Finley, ably assisted by Ally Parry, Andrey Kuznetsov, Aurelien Bouvier, and Zak Kieda.
---
Last Updated on Monday, 30 July 2012 09:20